Can I get into Canada?
Find out if you will get denied at the border
Guaranteed quick response
* Your information is safe with us. We hate SPAM too.
Proven track record
Extremely quick response rate
Free personalized legal assessment
Flat payment, no hidden fees
Completely confidential
Marisa Feil has literally written the book on Canadian immigration with criminal offenses. Marisa has also been a keynote speaker at 100's of criminal defense conferences including at Harvard and Yale.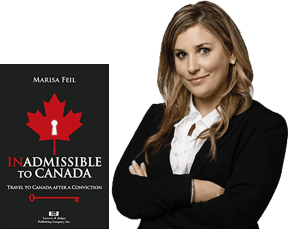 Criminal Rehabilitation
Criminal Rehabilitation will allow you to enter the country without special authorization from Canadian immigration officials. You will have a clean slate with Citizenship and Immigration Canada, and will be able to travel to Canada hassle-free from that point on.
Temporary Residency Permit
A Temporary Residency Permit (TRP) will allow you to temporarily enter Canada for a specified reason and for a specified period of time. It's like having an hall pass to get into Canada. A TRP is required until criminal inadmissibility has been removed.
Benefit from our professional, expert service